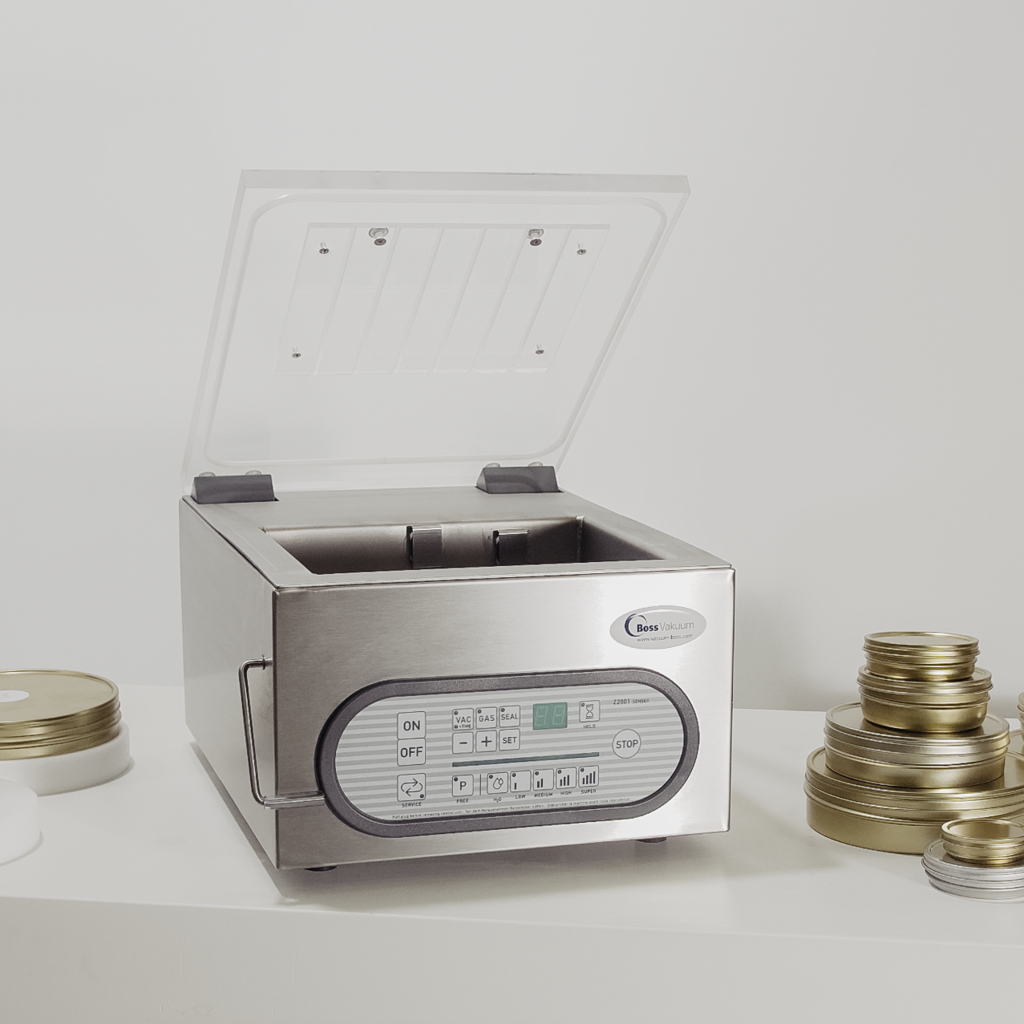 Innovative - compact - vacuum machine for cans Mini-T 10 D
INNOVATIVE - COMPACT - VACUUM MACHINE FOR CANS
Our new can seaming machine Mini-T 10 D is used for a wide range of can sizes. The simple control system allows easy handling and intuitive operation. You want to seal cans? We are specialized in individual solutions.
We advise you under +49 (0)6172 457097.
In this vacuum machine Mini-T 10 D with chamber, the chamber bottom is equipped with a lifting mechanism. The flat lid offers devices for the correct placement of the cans or even the shelves have recesses for the appropriate can size. The vacuum machine creates a capacity of 3-4 cycles per minute. The can seaming machine is used for example in caviar packaging.
In this application video we show you how to vacuum can. Are you interested in a can vacuuming machine? We have another one on offer, HERE you can find the single chamber machine MAX F 50 D. You can reach our sales team by phone on weekdays between 8:00 and 17:00 at +49 (0)6172 457097. We will advise you comprehensively and individually tailored to your company.
↑ Back
ProPak Asia Exhibition
14-17 June 2023
Bangkok/Thailand
Food Taipei
14-17 June 2023
Taiwan/China
Bibac Plus
22-25 July 2023
Antwerp/Belgium
Interaspa
06.-07. September 2023
Hatten/Germany
Interfood & Drink Bulgaria 2023
08.-11.Oktober 2023
Sofia/Bulgarien
HostMilano
13.-17. October 2023
Milan/Italy
Agropodmash
October 2023
food processing
Moscow/Russia
Meatmania
06-09 November 2023
Sofia/Bulgaria
Equip'Hotel Paris
15-19 November 2023
Paris/France
expoSE
22.-23. November 2023
Karlsruhe/Germany
FISH INTERNATIONAL
25-27 February 2024
Bremen/Germany
INTERNORGA
08-12 March 2024
Hamburg/Germany
Anuga Food Tec
19-22 March 2024
Köln/Germany