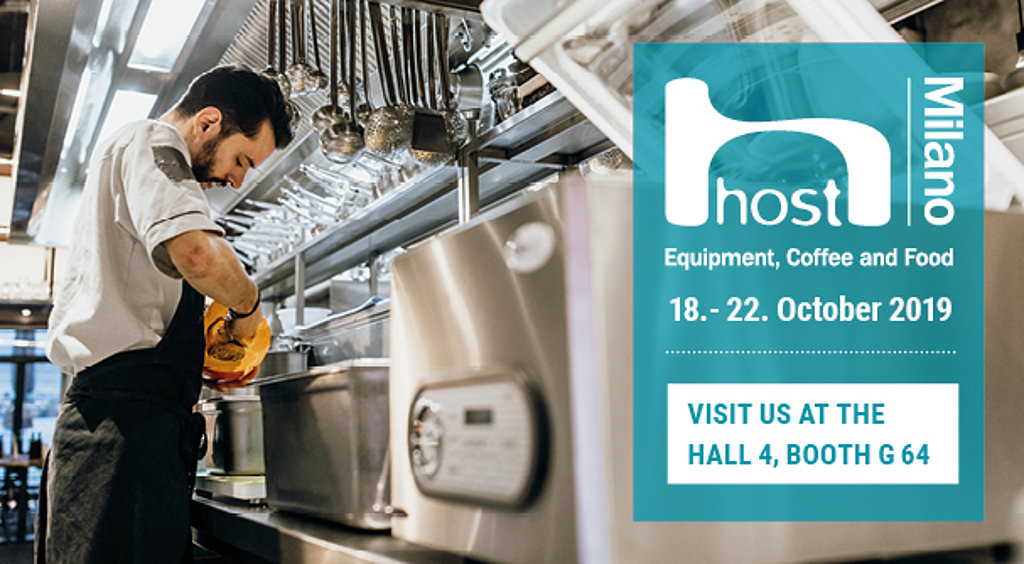 Host 2019 Mailand
Host – Where hospitality and business meet

From 18th to 22th September 2019 the HOST – International hospitality exhibition – will begin in Milano, Italy. BOSS Vacuum will again be represented with a booth this year. Our dedicated sales team is looking forward to presenting solutions for vacuum-packaged products in hall 4, booth G64. The focus here will be on shelf life, freshness of the product and hygienic packaging.
Start of a new generation of control systems

At our booth we will present a new sensor control system. Quick selection between five functions e.g. for packaging liquids and pressure-sensitive products. In addition, 99 memory slots can be programmed individually. A completely new feature is a so-called marinating program in which a pre-determined vacuum value can be maintained. The service program extends the service life of the vacuum pump and complies with the latest standards. Our quick stop button still provides a manual packaging option.
↑ Back
ProPak Asia Exhibition
14-17 June 2023
Bangkok/Thailand
Food Taipei
14-17 June 2023
Taiwan/China
Bibac Plus
22-25 July 2023
Antwerp/Belgium
Interaspa
06.-07. September 2023
Hatten/Germany
Interfood & Drink Bulgaria 2023
08.-11.Oktober 2023
Sofia/Bulgarien
HostMilano
13.-17. October 2023
Milan/Italy
Agropodmash
October 2023
food processing
Moscow/Russia
Meatmania
06-09 November 2023
Sofia/Bulgaria
Equip'Hotel Paris
15-19 November 2023
Paris/France
expoSE
22.-23. November 2023
Karlsruhe/Germany
FISH INTERNATIONAL
25-27 February 2024
Bremen/Germany
INTERNORGA
08-12 March 2024
Hamburg/Germany
Anuga Food Tec
19-22 March 2024
Köln/Germany