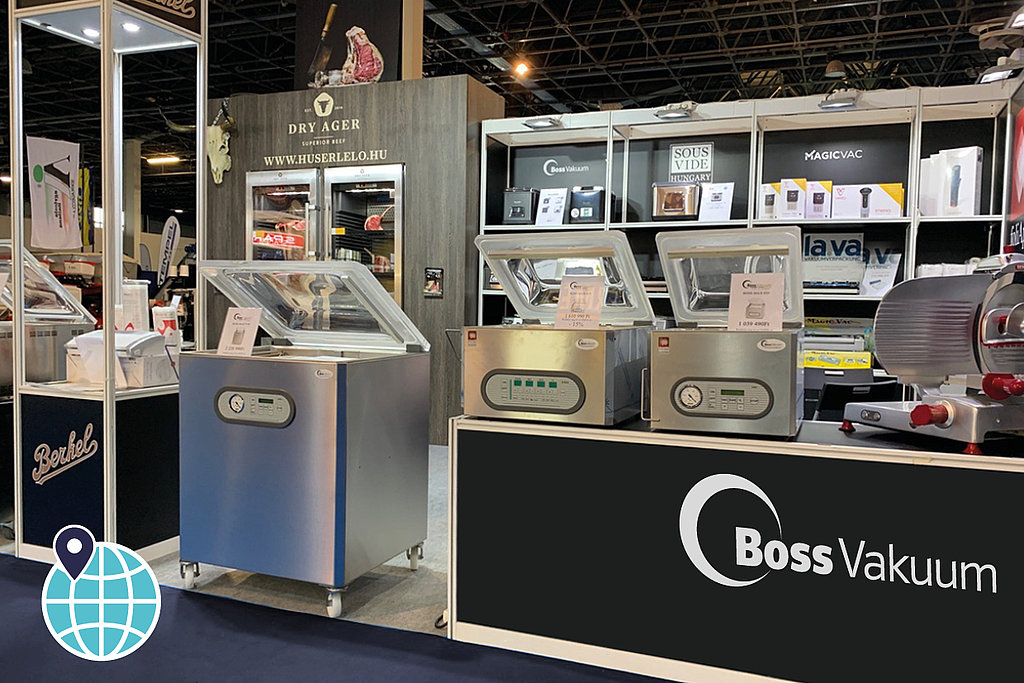 Forum Budapest
BUDAPEST - September 2019 - Hungary's largest agricultural and food fair opened its doors for the 79th time last week. The fair has undergone an enormous development process and has now reached an exhibition area of 40,000 sqm with many product innovations and creative ideas.
From exceptional food of all kinds, traditional foods and beverages, food production, unique development ideas, state-of-the-art technical equipment, exceptional technology in the agricultural sector and much more, OMÉK has a lot to offer its visitors.
The SHEFFIE LTD team from Budapest represents the BOSS vacuum machines at their booth. Peter Belik, Sales Manager on site, is pleased with the good performance, the numerous visitors and the constructive discussions: "Hungary is a market with a lot of potential and I am looking forward to many new contacts".
↑ Back
ProPak Asia Exhibition
14-17 June 2023
Bangkok/Thailand
Food Taipei
14-17 June 2023
Taiwan/China
Bibac Plus
22-25 July 2023
Antwerp/Belgium
Interaspa
06.-07. September 2023
Hatten/Germany
Interfood & Drink Bulgaria 2023
08.-11.Oktober 2023
Sofia/Bulgarien
HostMilano
13.-17. October 2023
Milan/Italy
Agropodmash
October 2023
food processing
Moscow/Russia
Meatmania
06-09 November 2023
Sofia/Bulgaria
Equip'Hotel Paris
15-19 November 2023
Paris/France
expoSE
22.-23. November 2023
Karlsruhe/Germany
FISH INTERNATIONAL
25-27 February 2024
Bremen/Germany
INTERNORGA
08-12 March 2024
Hamburg/Germany
Anuga Food Tec
19-22 March 2024
Köln/Germany